Seven seconds. That's the time it takes for a person to create their own first impression on something. This fact also relates to your home. You don't want people to have a negative connotation when driving by your home, so what can you do to change this? We'll talk about what typical changes do to property value, as well as the addition of a front entrance driveway gate.
If you read a multitude of articles on the web concerning the return on investment of your home, the number one thing they speak on is curb appeal. Curb appeal is the allurement that the exterior of a property provides. I've decided to go a bit further and see just what brings in the big bucks as it pertains to curb appeal.
According to Remodeling Magazine's "Cost vs. Value Report of 2015", the top three things that bring a great return on investment are the replacement of a garage, siding, windows, and front door. Depending on if you replace the door with fiberglass or steel, your ROI can range between 72% and 101.8%. A garage door replacement brought in approximately 88.4% in 2015. The siding and window replacement brought a little lower ROI of 77.6% and 72%.
While all these bring in a significant ROI, the addition of a driveway gate brings your property value up and will help sell your property faster. These other replacements only increase the ROI in dollars. A gate is the better choice because it increases your ROI monetarily while also giving off a perceived exclusivity and feeling of security. Let's talk what's important first: the numbers.
According to Chris McGoey at Crime Doctor's, "Adding an attractive automatic entry gate system can add $50,000 or more to single family home values." According to Riverside Fence Blog, "automatic driveway gates can add up to 5% to your home's value." With gate packages as low as $3,000 at Gate Crafters, you can easily reap the benefits of having an automatic gate on your property. Let's say you purchase a high end gate opener for $5,000 from Gate Crafters and your property is appraised at $400,000. With the addition of just that driveway gate, you can increase your property value to $420,000. This is a $15,000 return, from a $5,000 investment.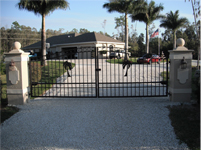 The three most important concepts to understand when buying a property (whether for living purposes or as an investment) is always location, location, and location. People want to purchase a residence where the schools are exceptional and crime rates are remarkably low. To add an extra sense of security to any property (whether it is in a crime stricken area or not) you can put up a driveway gate. Chris McGoey at Crime Doctor's states, "criminals will bypass a gated community for one that is not gated simply because of the restricted access." Now along with the security comes the ease of getting into your property with your remote or even the capability of using your cell phone. The driveway gate also gives the perception that someone important lives in the home. When buyers look to purchase a home, they always check to see what the neighboring homes are going for. They usually aren't afraid to spend a couple more dollars if the home provides just the right curb appeal.
If you want your property to bring a greater ROI while standing out from the other properties in the neighborhood, the addition of a driveway gate is your best bet. Check out our website or get in contact with our sales reps to boost your property value today.
Please follow and like us: