All brands of gate openers that are linear actuators (piston style gate openers)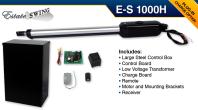 have a bracket that the gate opener instruction manual specifies is to be mounted to the post of the driveway gate. This post bracket typically is there to hold a horizontal bracket that the gate opener attaches to and pivots on. Our technicians at GateCrafters.com get weekly phone calls in which customers are thrown through a loop as to how to proceed with their installation because of the post brackets and a mounting problem they have.
First we will explain what is happening with the gate opener installation. The horizontal bracket previously mentioned that the gate opener attaches to needs to be in a very specific location that is a measurement form the hinge of the gate. However many people don't have a gate with hinges mounted in a standard way where they are on the driveway face of the post. Some people have hinges on the rear face of the post or have a column next to the post. [see picture below of a drawing a customer did of their issue]
In these scenarios the post bracket cannot be mounted in the suggested location from the instruction manual.
If this is the case you are dealing with, do not fret, there are only two requirements to the post brackets and once you understand these it will give you the freedom to solve your issue:
1. The post brackets must be bolted to a stable object, not necessarily the gate post.
2. The post brackets must hold the horizontal bracket in the correct location for the correct gate opener setback.
Other than these two requirements the posts brackets can technically be mounted ANYWHERE. GateCrafters.com sells a secondary mounting post,  http://www.gatecrafters.com/product_detail_1047.aspx, for just this purpose. You can sink this post in the ground near your gate and mount the post brackets on this post it that will allow you to position the horizontal bracket in the correct location. Other options are mounting to a fence or wall.
Please follow and like us: